MDCC Arena was built in 2005 and opened its door for the public on 19 December 2006. The MDCC Arena is the multipurpose stadium which is located in  Magdeburg, Germany. This stadium is home of 1. FC Magdeburg and partially for the selected matches is the home of Germany national football team. The MDCC Arena is named after the Magdeburg telecommunications provider. In this post we are providing the MDCC Arena seating map, parking map, ticket price and ticket booking details.

The MDCC Arena is owned by the City of Magdeburg and operated by the MVGM Messe- und Veranstaltungsgesellschaft. The construction cost of MDCC Arena is € 31 million. To match the latest facilities this stadium underwent renovation in 2018, previously this stadium seating capacity was 25910 after the renovation its seating capacity extended is currently around 30098. The MDCC Arena hosted games like World Cup preparation game in 2007, final of the German American Football Championship, 2009 UEFA European Under-17 Football Championship final, German Football League matches, 
MDCC Arena Seating Plan 2023 Magdeburg, Germany.
MDCC arena seating capacity is around 30098 which includes the 14500 for standing room and 15598 seated place, 60 for disabled category, 77 for media space, 750 business seats and 150 executive boxes which can accommodate a total up to 180 seats. With the help of  MDCC Arena seating map 2023, visitors can book the ticket for the suitable seat. Seating charts also help to understand the pitch view, row selection, seat selection etc.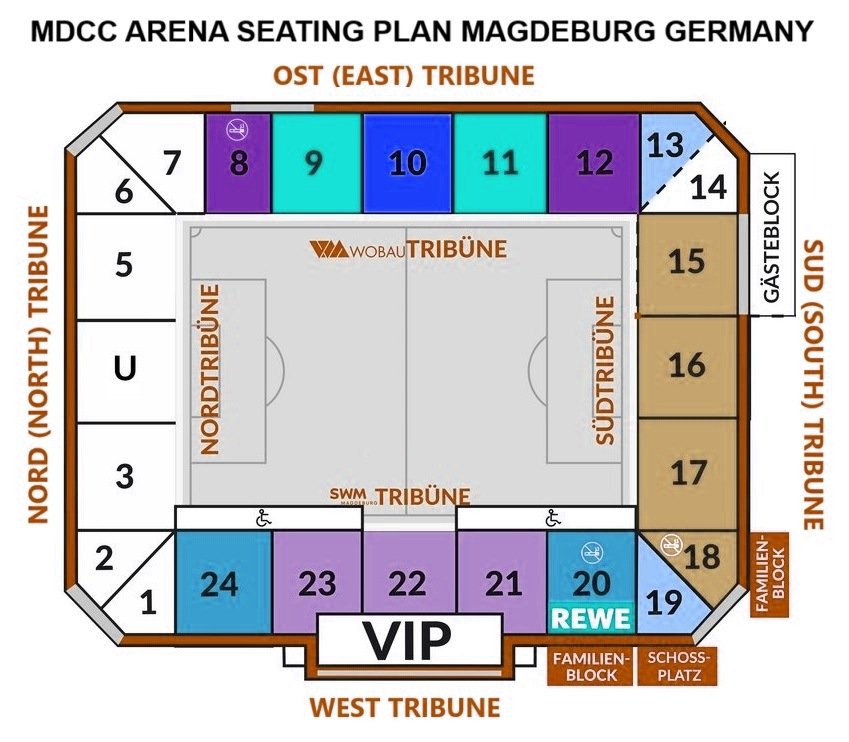 The MDCC Arena seating layout 2023 bifurcated into 04 stand as follows:
SMW Magdeburg Tribune (West Tribune) : This is the main stand and also known as Haupttribune which covers sections 19, 20, 21, 22, 23, 24. In this stand VIP, family block and disabled seating are available.

Nordtribune : The North stand of the stadium covers the sections 1, 2, 3, 4, 5, 6, 7.

Wobau Tribune (Ost Tribune) : The east stand of the stadium and it is the longside stand and covers sections 8, 9, 10, 11, 12, 13. 

Sudtribune : The south stand of the stadium located behind the pitch. Section covers the 14, 15, 16, 17, 18. In this stand family and guest blocks are located.
MDCC Arena Ticket Prices 2023
Ticket prices of MDCC Arena are not fixed, as this stadium hostess, league matches, championship, home game, season match etc. Every game has its own importance and has a different ticket price.Normally tentative season ticket prices of MDCC arena 2023 starts from 7.50 Euro Schoßplatz, 7.50 Euro for Kahlenticket 7 -14 Jahre, 34.50 Euro for Jugendticket 15 -17 Jahre, 36.00 Euro for Mitglied, 38,00 Euro for Ermäßigt and 39,50 Euro for Vollzahler.
Ticket booking of MDCC Arena 2023
MDCC Arena Ticket Booking is available online and offline. The online ticket booking of MDCC Stadium 2023 is an easy and time saving way. Visitors can book the ticket through the stadium and clubs official website. Visitor can also book the ticket through following channel:
Through telephone at the stadium service center
Through Visit at the stadium Fan shop and Box office
While booking MDCC Arena ticket booking online visitors are suggested to always book the ticket only through a trusted site to avoid the online frauds.
MDCC Arena Parking Map 2023

The MDCC Arena has approximately 1200 vehicles. On matchday due to high demand for parking this parking gets full fastly. The parking of MDCC Arena is provided on a first come first serve basis. It is suggested that for hassle free parking reach the stadium before kickoff or on time.