Spartak Stadium is a newly built stadium which hosted FIFA world cup matches 2018. It is a UEFA Category 4 Stadium of Russia located in Tushino. 5 matches of world cup were scheduled in this stadium including round 16 match. It is generally known as Otkritie Arena and during the 2017 FIFA Confederations Cup it got its new name. In FIFA world cup this stadium was known as new name i.e. Spartak Stadium. Otkritie Arena tickets are in high demand and most of the time tickets sells out very quickly. Tickets can be purchased easily if planned well.

Otkritie Arena was built in 2014 and construction was begun in 2010. This stadium can accommodate 45000+ fans during a live match of football. 430 million USD was spent in the stadium. Field size of the stadium is 105 x 68 m and surface is made of grass. It is architect by BiznesTehProekt, PozhEvroStroi and tenants of the ground are FC Spartak Moscow and Russia national football team. 2017 FIFA Confederations Cup was hosted by this stadium successfully and 2018 FIFA World cup was  a huge hit. We have created this page to provide information regarding Otkritie Arena tickets, address, nearest airport, ticket price, seat map, how to reach, etc.
Spartak Stadium Statistics
We have included quick facts of Otkritie Arena (Spartak Stadium ) in a simple table to educate site visitors.
| Particulars | Information |
| --- | --- |
| Built Year | 2014 |
| Capacity | 45000 |
| City | Moscow |
| Location | Tushino |
| Address | Volokolamskoye sh., 69, Moskva, Russia, 125424 |
| Timezone | GMT+3 |
| Field Size | 105 by 68 meters |
| Surface | Grass |
| Cost | US $430 million |
| Other Names | Otkritie Arena |
| In Russian | «Открытие Арена» |
| Nearest Airports | Sheremetyevo International and Vnukovo International Airport |
Otkritie Arena Stadium Seating Chart
Otkritie Arena is a big stadium and locating a seat in 45K seats is a very tough task without a proper seat map. Spartak Stadium seating capacity is near to 45000. On match day a huge crowd is expected to watch the live game of football. Seating map of the stadium will help the visitors to book their tickets online. Also, it will help visitors while the entry and exit from the stadium.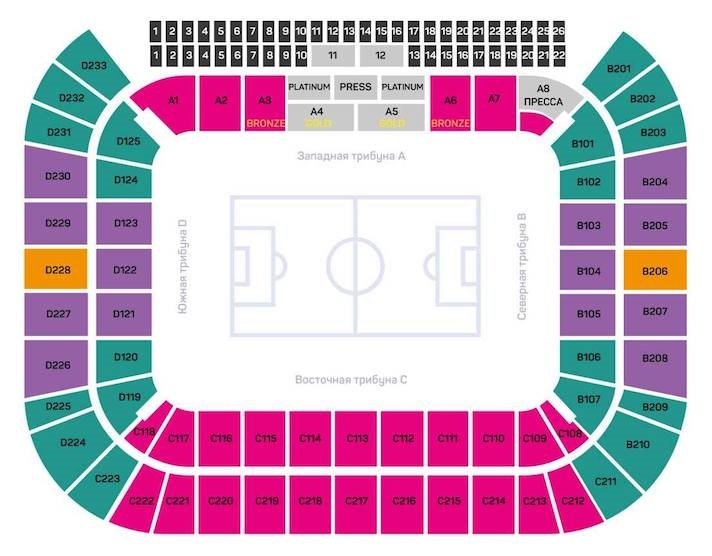 Spartak Stadium Nearby Hotels



Not so many options are available near the stadium. The stadium is well connected through the metro rail. Football fans can easily reach this venue by residing somewhere else. Moscow city center will be good option to stay. Metro will hardly take 30 minutes to reach here from Moscow. Moscow city has full of hotels of all the budget range from cheap to expensive ones. We have included some hotels randomly in the below table.
| Hotel Name | Distance from Stadium |
| --- | --- |
| Hotel DOSAAF | 0.8 KM |
| Boutique Hotel Pechora – Komi | 1.4 KM |
| Hotel Tayozhny | 2.1 KM |
| Hotel Pokrovskoe-Streshnevo | 2.5 KM |
| Mini Hotel Strogino Expo | 2.8 KM |
| Mini Hotel Strogino Expo | 2.8 KM |
| Spa-Mir | 2.8 KM |
| Hotel DOSAAF on Pokhodnyy Proezd | 3 KM |
| Gostiniy Dom Opens in new window | 3.2 KM |
| Aquarium Hotel | 3.2 KM |
| SeverSiti Hotel | 3.2 KM |
| DoubleTree by Hilton Moscow – Marina | 3.2 KM |
Spartak Stadium Nearest Stadium, Address and How to Reach
Sheremetyevo International Airport is the nearest stadium to the stadium. Vnukovo International Airport is another airport of Russia (around 50 KM from the venue). From the airport, visitors can reach here through metro and shuttle services run throughout the day. Volokolamskoye sh., 69, Moskva is the address of the venue.