Sydney cricket ground is a sports ground in Sydney, Australia. It is primarily used for Cricket, Australian football, and Rugby, It is one of the oldest stadiums in Australia. It was established in 1848. It is a more than 170 years old stadium. Sydney stadium seating capacity is 48000 and during the high voltage matches all the 48000 seats are occupied. It is a big stadium and during the houseful matches, it is tough to locate the booked seat in the stadium without the Sydney Cricket Ground seating chart. In this post, we are including the Sydney Cricket Ground seating map 2023 along with the ticket booking process.

Sydney Cricket Ground is mainly used for international cricket matches along with T20 leagues like BBL, and domestic matches. It is owned by the Government of New South Wales and operated by Sydney Cricket Ground Trust. The main tenants of the stadium are Australia national cricket team, the New South Wales cricket team, Sydney Sixers (BBL), Sydney Sixers (Women BBL), Australian Rules Sydney Swans (AFL), Rugby Union NSW Waratahs (Super Rugby), and Rugby League Sydney Roosters (NRL). The first test was played here in 1882 between England and Australia. Sydney cricket ground hosted the first ODI on 13 January 1979 between England and Australia. The First T20 international was also hosted between England and Australia on 9 January 2007. It is one of the main stadiums in Australia which is used for the hosting of various types of sports.
Sydney Cricket Ground Seating Chart 2023

It is a big stadium and can accommodate 48,601 spectators during the matches. It is a big stadium that has multiple entry gates, sections, and rows. During high-voltage matches it is a challenging task to find a seat in this huge stadium. We are sharing the Sydney Cricket Ground Seating map which is useful to locate the seats easily. All the entry gates, sections, and rows are depicted clearly on this seating chart.
Screen location, sections, stands, rows, pavilions, pitch direction, suites, clubs, etc. will surely help you to book your favorite seat. Also, they will help you to determine the view from the seat. We are sharing some images of the stadium which are showing the location of the stadium along with nearby roads, public transport area, ladies' pavilion, and other important details. Disabled seating of Sydney cricket ground is also clearly marked on the map along with all box office locations.



I hope the above seating chart will be helpful in finding your seat inside the stadium without any difficulties.
Sydney Cricket Ground Parking Map 2023
During events and concerts, it is stuff to find Parking near the Sydney cricket ground due to high demand. Multiple parking lots are situated near the SCG and some parking lots are open for parking only during the event. Most of the parking lots near the Sydney Cricket Ground can be used by paying a nominal fee. The Sydney cricket ground parking map is shared below showing all the parking lots near the stadium. parkopedia.com.au can be used to find Parking near the SCG.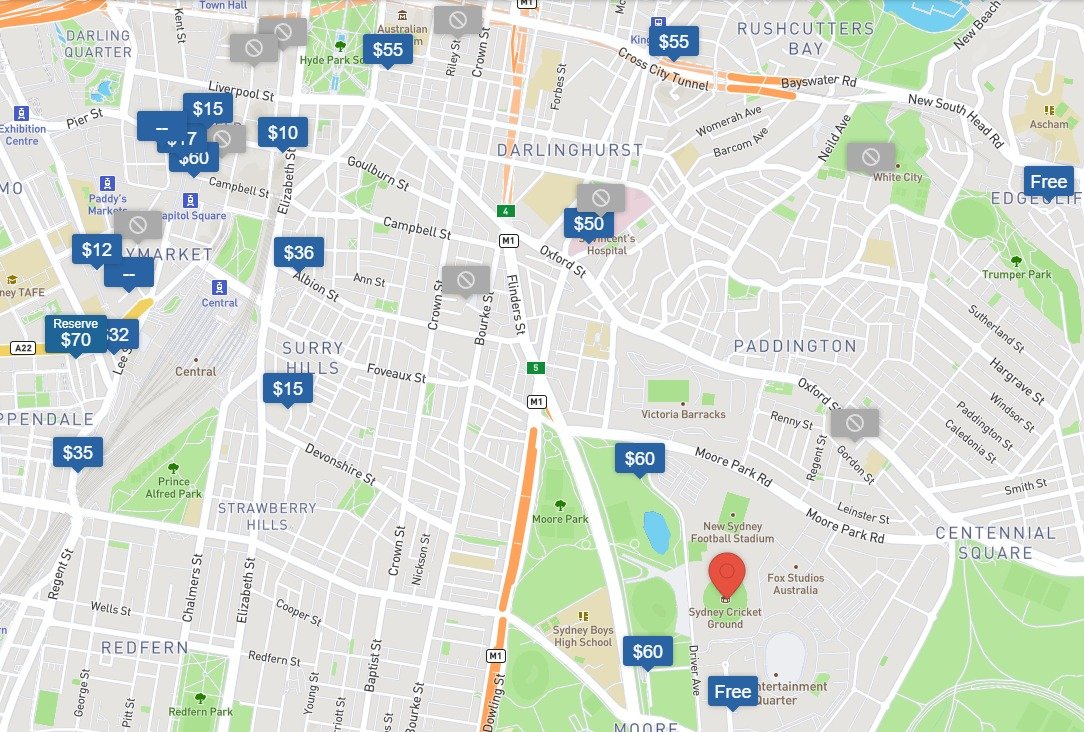 Sydney Cricket Ground Ticket Booking

Booking match tickets is important to get entry inside the stadium. Ticket booking for Sydney Stadium normally opens a few weeks before the scheduled match. Tickets are generally available online and offline mode. During the famous matches, it is tough to book your favorite seats in advance so we are sharing both modes to book Sydney cricket ground tickets.
Sydney Cricket Ground Tickets Online Booking
Online tickets are preferred as they provide fast and confirmed delivery from the comfort of your home. Also, they can be done instantly with the help of internet-enabled devices and online payment methods. Visitors who are interested in online tickets need to visit the official booking site and select the seat from the Sydney cricket ground seating map and price. After selecting the seats, online payment is required to book the seat. Tickets will be delivered to your address or you need to collect them from the box office as per the option chosen during ticket booking.
Sydney Cricket Ground Box Office Tickets
Sydney cricket ground also sells match tickets offline. The ticket box office is located outside the stadium between gates B and C as per the Sydney cricket ground map. Offline tickets are less preferred as this is a time-consuming method and does not provide many options like online tickets. The details about ticket booking are generally shared a few weeks before the match through official channels.

Sydney cricket ground ticket prices generally start from $25 and it depends on the type of sport and match.