Emirates Stadium is one of the biggest football stadium in England. Due to its seating capacity, prior to match people looking for the Emirates Stadium seating plan with seat numbers. This stadium is located in London city. Before the sponsorship, stadium was named as Ashburton Grove. During UEFA competitions, it is known as Arsenal Stadium. It is one of the best stadium of country to watch football matches. Stadium located in Drayton Park locality and owned by Kroenke Sports & Entertainment. In this post, we are sharing the Emirates Stadium seating plan map so that it would be easy for visitors to locate their seats.
In 1997, Arsenal football club planned to expand their current home stadium and tried to find new location for their team. After checking various options, they finalize a waste land in Ashburton Grove. After getting all the necessary approval, they started the construction of stadium in Ashburton Grove in 2004, therefore, this stadium was known as Ashburton Grove stadium. After getting sponsorship from Emirates in 2004, it is named as Emirates stadium London. Arsenal stadium construction was completed in 2006 in £390 Million. The stadium has hosted many international fixtures and music concerts too.
Emirates stadium owned by Kroenke Sports & Entertainment. Stadium seating capacity is 60260, which make Emirates stadium England fourth largest football stadium in terms of seating capacity. 152 suites also located in this stadium. Ground field size is 105 x 68 metres. Stadium surface is GrassMaster. Stadium was officially opened for public in 22 July 2006 and tenant of the stadium is Arsenal football club.
Emirates Stadium Seating Plan
It is one of the biggest stadium of the country and without Emirates stadium seating chart it is very tough to locate the seats and gates. Emirates stadium seating plan is very helpful during the visit of the stadium. We have included the Arsenal stadium seating plan below which is showing the upper tier, lower tier, executive tier and club level stands. This Emirates stadium seat map handy during the visit of the stadium.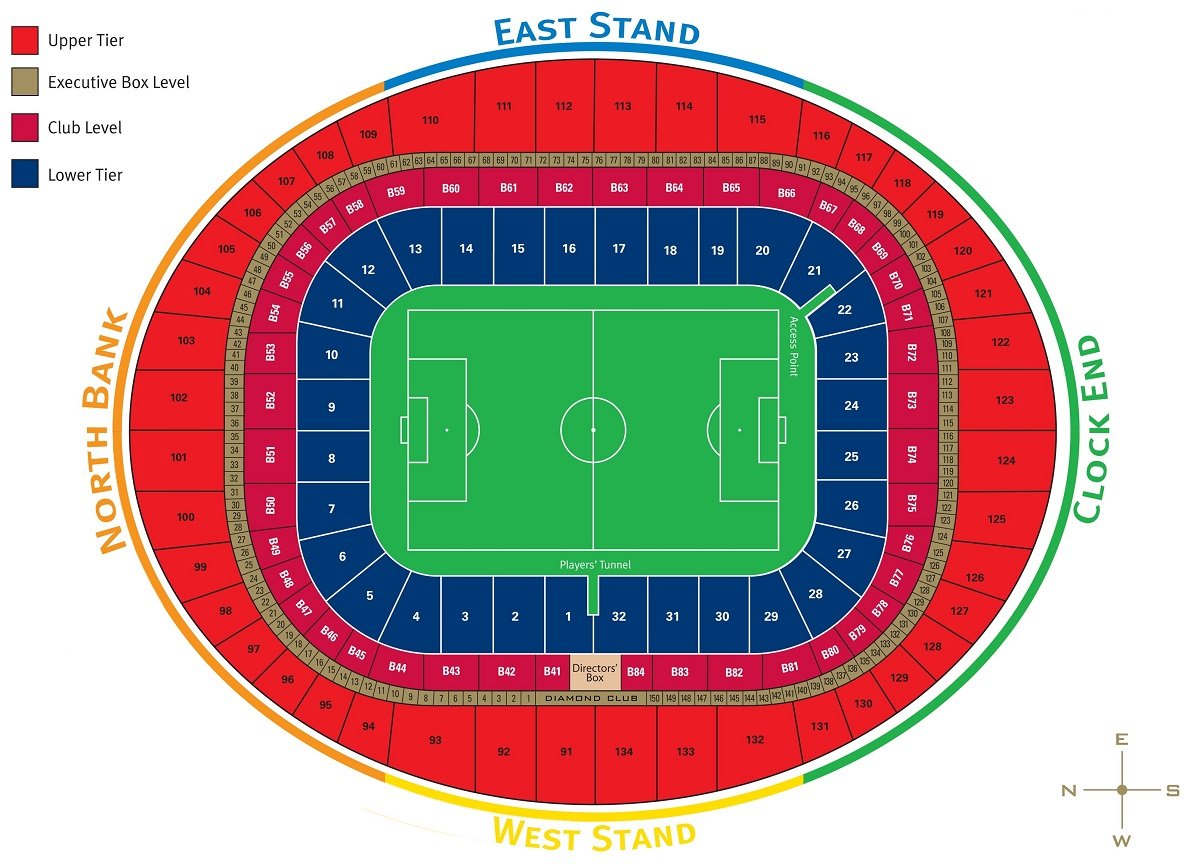 Emirates stadium seating plan depicted all ends like west stand, clock end, east stand and north end. Directors box, pitch, players tunnel and access point also shown on the map. This Arsenal seating chart also helpful to book tickets considering best view from the seat.
Emirates stadium England Tickets
Arsenal stadium tickets can be bought online from multiple sources, during league matches, international matches and music concerts, Emirates stadium tickets are in high demand. Arsenal Online tickets are easy to book and minimum details are required to book the Emirates tickets. Below is the complete process to book Emirates stadium tickets online.
Log on to Arsenal website and look for tickets and season tickets.
All the tickets of upcoming matches is listed along with the schedule.
Click on your choice of the match to book tickets online.
Click on book tickets after checking the date and event.
On this page all available tickets along with Emirates stadium seating map displayed.
Click the best seat as per your budget and go for the payment.
After the payment, wait for confirmation mail of tickets.
Follow the process listed on the mail regarding the tickets and delivery information.
Emirates stadium Ticket Price
Arsenal stadium ticket cost depends from event to events. Emirates stadium ticket cost is depends on match type, day and event type. Generally ticket price start from £40 and may go up to £500. Emirates stadium ticket prices depend on stand type, seat type, match type, view from the seat, day, etc. Always book Emirates stadium tickets only from official sources.