Luzhniki stadium is the biggest football stadium of Russia and it is one of the biggest stadium of entire Europe. Luzhniki stadium seating chart is in high demand as it is helpful in locating seats in biggest stadium of Russia. This stadium was built in 1956 and the name of the stadium was Central Lenin Stadium from 1956 to 1992. Luzhniki stadium was in limelight in 2018 due to the FIFA 2018 world cup. Luzhniki Stadium tickets for FIFA 2018 world cup matches were be in high demand as it is the biggest event of football. It is located in Luzhniki Olympic Complex and having seating capacity of 81000 people. It is UEFA rated stadium.

This stadium is located in Moscow (capital of Russia) and first and final match of FIFA 2018 world cup were hosted in this stadium of Russia. It is owned by Government of Moscow and Russia national football team is the main tenant of this beautiful ground. This stadium is renovated for 2018 FIFA games so that football lovers can enjoy the high voltage matches with modern amenities. Football fans from all over the world gathers here to watch the football games in this stadium. Luzhniki Stadium is located on the banks of Moskva River and the name of the stadium derives from this river. We are covering information of Luzhniki stadium tickets along with all important details like Luzhniki stadium arrangement, nearest airport, location, time zone, schedule of the matches.
Luzhniki Stadium Statistics
Some interesting facts and information related to this stadium.
| Particulars | Information |
| --- | --- |
| Built Year | 1956 |
| Capacity | 81000 |
| City | Moscow |
| Location | Москва |
| Address | ул. Лужники, 24, Москва, г. Москва, Russia, 119048 |
| Timezone | GMT+3 |
| Owner | Moscow government |
| Field Size | 105 by 68 metres |
| Surface | Grass |
| Cost | €350 million |
| Other Names | Central Lenin Stadium |
| Nearest Airports | Sheremetyevo International Airport and Domodedovo Moscow Airport |
Luzhniki Stadium Tickets
It is Russia's biggest stadium, so Lluzhniki stadium tickets are in very high demand always. Luzhniki stadium online tickets can be bought through official websites and partner website. We recommended to you buy tickets only from official and authorized sites to avoid any fraud.

Luzhniki Stadium ticket prices depends on the match and seats are selected by the guests to watch the match or event. Tickets are available in multiple categories and checking prices of Luzhniki Stadium tickets from official sites would be a good decision.
Luzhniki Stadium Seating Chart
Seating plan of Luzhniki Stadium will help the football fans during the tickets booking and finding their seats in the stadium. As this is the biggest stadium of Russia and can accommodate 80000+ of people at once, therefore checking Luzhniki stadium seating map is a good idea before visiting the stadium itself.
Luzhniki Stadium seating arrangement map is very helpful to locate the seats in 80000+ seats. It is showing the seats along with rows. During high voltage matches and events, stadium tickets are in high demand and below map is helpful to decide best view seats.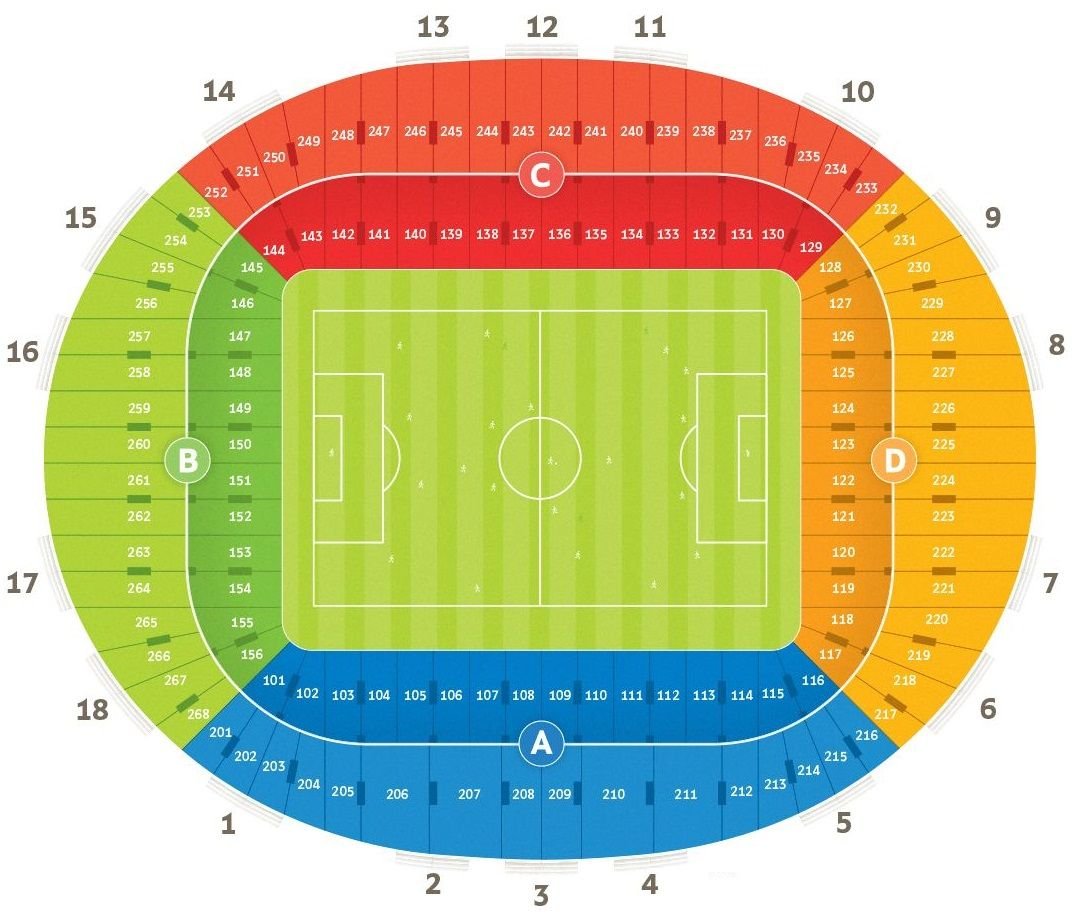 Luzhniki Stadium Nearby Hotels

Moscow has wide variety of hotels from low range to high range. A high footfall is expected during the 2018 soccer world cup. Fans from all over the world reach to Moscow and choose the hotels as their budget. First preference of the visitors to choose a budget hotel near the Luzhniki stadium so that they can enjoy the game and reach their hotel in minutes. We have selected some random hotels near the stadium. Check the hotels name along with the distance from the stadium.
| Hotel Name | Distance from Stadium |
| --- | --- |
| Apartments on Leninskiy prospekt 37A | 2.2 KM |
| Khamovniki Spektr Business Hotel | 1 KM |
| City Heart Apartments Mosfilm | 2.5 KM |
| Novotel Moscow Kievskaya | 3 KM |
| Blues Hotel | 1.2 KM |
| Yunost Hotel | 1 KM |
| InterContinental Moscow Tverskaya | 6 KM |
| Hotel GOSTIKA | 6 KM |
| Marko Arbat | 5 KM |
| Congress-Park Volynskoe | 5 KM |
Luzhniki Stadium Address, Nearest Airport and How to Reach
ул. Лужники, 24, Москва, г. Москва, Russia is the address of the stadium and zip code is 119048. Sheremetyevo International Airport (40 KM) and Domodedovo Moscow Airport (46 KM) are the nearest airport from this venue. You can choose any airport to reach Moscow and it fully depends on your traveling airline. Rest of the journey can be covered through the taxi, metro network or other modes of Public transport.
As we are trying to providing only information related to tickets for Luzhniki stadium to our valuable visitors.