The Volksparkstadion is located in  Hamburg, Germany and it is the football stadium. The Volksparkstadion is the home stadium of Hamburger SV and Germany national football team for selected matches. This stadium is named Volksparkstadion on its location at Altona Volkspark. Previously this stadium was also known as AOL Arena, HSH Nordbank Arena and Imtech Arena. In this article we are sharing the Volksparkstadion seating map, parking map, ticket price and ticket booking details.
The Volksparkstadion started to build between 1951 to 1953 and opened its gate for the public on 12th July 1953. The seating capacity of the stadium is 57000 for league matches and 51500 for the international matches. The Volksparstadion hosted many games like the 1974 FIFA World Cup, UEFA Euro 1988, 2010 UEFA Europa League Final, 2006 FIFA World Cup and UEFA Euro 2024 matches to be played here. Apart from the football games this stadium also hosted boxing matches and concerts where many mega artists like Michael Jackson, Tina Turner,  Harry Styles performed in the stadium. 
Volksparkstadion Seating Plan 2023
Volksparkstadion seating capacity is 57000 for league and 51500 for international matches. Volksparkstadion seating chart helps visitors to book the ticket, identify the seat location and know the pitch view from the seats. This Volkspark stadium seating map 2023 is divided into 04 sections as follows :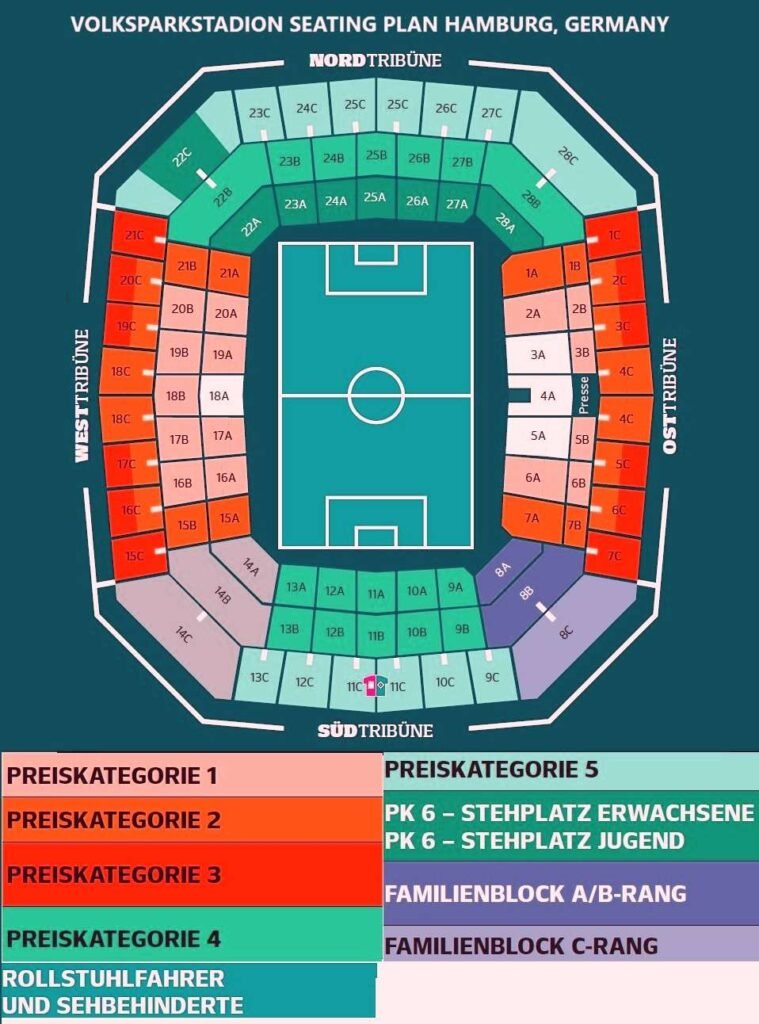 Nord Tribune : The Nord stand of the stadium is located behind the goals in its short side stand.
Lower Tier Sections : 22A, 23A, 24A, 25A, 26A, 27A, 28A.
Middle Tier Sections : 22B, 23B, 24B, 25B, 26B, 27B, 28B.
Upper Tier Sections : 22C, 23C, 24C, 25C, 25C, 26C, 27C, 28C.
Ost Tribune : The East stand is the long side stand which premium and expensive seating area including the press seating.
Lower Tier Sections : 1A, 2A, 3A, 4A, 5A, 6A, 7A.
Middle Tier Sections : 1B, 2B, 3B, Press, 5B, 6B, 7B.
Upper Tier Sections : 1C, 2C, 3C, 4C, 4C, 5C, 6C, 7C.
Sud Tribune : The South stands mix seating including the away fan zone and located behind the goals.
Lower Tier Sections : 8A, 9A, 10A, 11A, 12A, 13A, 14A.
Middle Tier Sections : 8B, 9B, 10B, 11B, 12B, 13B, 14B.
Upper Tier Sections : 8C, 9C, 10C, 11C, 11C, 12C, 13C, 14C.
West Tribune : The West stand of the stadium is a long side stand including the premium seating area with good amenities.
Lower Tier Sections : 15A, 16A, 17A, 18A, 19A, 20A, 21A.
Middle Tier Sections : 15B, 16B, 17B, 18B, 19B, 20B, 21B.
Upper Tier Sections : 15C, 16C, 17C, 18C, 18C, 19C, 20C, 21C.

Volksparkstadion Ticket Prices 2023
The Volkspark stadium ticket prices 2023 are variable as per the home games, away games and season games etc. As this stadium is also used for other purposes like concerts and events so there are no fixed charges for the ticket. Every game and concert has its own importance and ticket prices of Volksparkstadion depend on demand of the games, seat location, playing teams or performers.

The tentative Volksparkstadion Season Ticket prices 2023 are given:
VOLKSPARKSTADION SEASON TICKET PRICES HAMBURGER SV
PRICE CATEGORY
PRICES
PREISKATEGORIE 1
ab 64 €
PREISKATEGORIE 2
ab 49 €
PREISKATEGORIE 3
Jugendermäßigung bis einschließlich 21 Jahre **
ab 42 €
ab 22 €**
PREISKATEGORIE 4


Ermäßigung für Schwerbehinderte ab 50 %, nur Südtribüne A-Rang***

ab 35 €


ab 30 €**

PREISKATEGORIE 5
ab 30 €
PK 6 – STEHPLATZ ERWACHSENE
PK 6 – STEHPLATZ JUGEND
18 €
16 €**
FAMILIENBLOCK A/B-RANG
Kinderermäßigung bis einschließlich 14 Jahre*
ab 35 €


ab 16 €*

FAMILIENBLOCK C-RANG
Kinderermäßigung bis einschließlich 14 Jahre*
ab 30 €
ab 16 €*
ROLLSTUHLFAHRERUND SEHBEHINDERTE
je 18 €
Volksparkstadion Ticket Booking 2023
Volkspark Stadium ticket booking 2023 can be done through the stadium website or from through the club official website. HSV ticket shop is the online option of the ticket booking of Volksparkstadion 2023. Visitors also can visit the stadium in person and buy the ticket from the stadium box office and HSV service center which open from Monday to Friday 10 AM to 06 PM. By telephone at the service center booking also can be booked. For Volkspark Stadium Home games tickets timing starts from 9 AM to until kick off. 
Volksparkstadion Parking Map 2023
On match day parking at Volksparkstadion is not easy, visitors are suggested that reach the stadium on time for the hassle free parking. Around the stadium many VIP and other parking lot are available at the stadium. Visitors can use the Volkspark stadium parking map  2023 to locate the nearest parking spot at the stadium.