The Millennium Stadium is located in the capital Cardiff at Wales. This stadium is also known as Principality Stadium. This National stadium is very popular in the country and it is the home of the Wales National Rugby Union Team. Many games are played at this stadium including football, cricket, speedway & boxing etc. During the events, spectators look for the Principality Stadium seating plan.

The Principality stadium opened on 26th June 1999 for the public and the construction cost of the stadium was approx. £121 million. The Millennium Stadium is the largest stadium in Wales and 4th in the United Kingdom through its capacity. Many championships had been organized in this stadium like the Rugby world cup in 1999, 2007 & 2015. FA Cup, League cup, and Wales national football team's games etc.
All the games rugby, football, and cricket are loved by fans worldwide. These games much popular around the world. Especially in European countries, these games are played mostly on tournament and league basis.
Principality Stadium Seating Plan and Capacity
Principality stadium seating chart is given here to help the visitors. Spectators and fans always want to know where they will be seated during the match. It is easy to understand the seat location through map. The total capacity of Principality stadium is 73931 for Rugby and Football matches. 78000 fans can be seated for boxing matches. Seat numbers are allotted and printed on the tickets. Spectators can easily understand the layout with the help of the map. They can find the nearby food & drink outlet, merchandise, entry gates, and emergency & exit gates.

Stadium seats are divided into the following parts:
Lower Stand Block: Lower row is the nearest row to the pitch, which contain block from L1 to L42
Bar available at L1, L3, L5, L8, L13, L14, L16, L21, L23, L26, L28, L29, L33, L36, L39 & L42
Food available at L7, L18, L24, L31, L34, & L40
Merchandise at L5 & L20
Middle Stand Block: Middle row has a good view where visitors can enjoy match of full pitch easily. The Middle stand consist of block from M1 to M38
Bar available at M2, M4, M8, M13, M18, M24, M29, M34, M35
Food available at M6, M10, M20, M24, M28, M31
Merchandise at M25
Upper Stand Block: Under upper stand block spectators can enjoy full view of match with both side views. In upper stand block comes from U1 to U38.

Bar available at U2, U4, U6, U7, U9, U13, U17, U25, U29, U31, U34 & U36
Food available at U4, U8 & U30
Merchandise: No merchandise is available in the upper section.
Upper Stand Block North: This premium block consists blocks from N1 to N4 & UN1 to UN4.
VIP Section: The VIP section is also available at this stadium.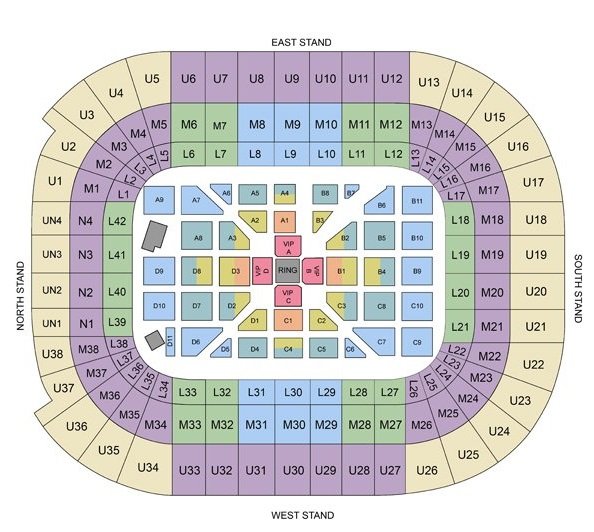 Taylor Swift Eras 2024 UK Tour
Eras 2024 UK Tour will be going held at Principality Stadium.  Taylor Swift will perform in the Eras 2024 UK Tour and the tickets for this tour are already open for sale. Tayor Swift Eras 2024 UK tour ticket booking can be done through the official website of the tour.  This  tour tickets already getting filling quickly and the demand for tickets among fans arises regularly. The Eras Tour UK Tour will be held on 18th June 2024 at Principality Stadium.
Millennium Stadium Ticket Price

The ticket price of Principality stadium depends on the match to match. Many tournaments and leagues has been organized here every year. But the ticket price is not fixed and charges also depend on the priority of the match between the fans & visitors. It is best to book tickets online instead of offline tickets to avoid last time rush and time-saving. If a match is highly demanded most of the tickets are sold out fastly. Therefore, visitors should plan for buying tickets on time.
How to Reach Principality Stadium
Visitors can reach at Millennium Stadium through rail the nearest stadium for Principality stadium is Cardiff Central railway station.
Zeelo providing coaches for travel to the stadium. Coaches running on five routes South West to Cardiff City Centre. Coach facility are available on reasonable prices. Visitor can enjoy hassle free journey in coaches.
The time taking between Principality stadium and Cardiff Airport around 30 – 35 mints through drive and 45-50 mints from the Bristol Airport. Shuttle service also available from airport to Rhoose station. Visitors can take train at Rhoose station to Cardiff Central Station.
Through Car visitors and fan can reach at stadium in 3 hours from the London and East Midlands. It is best to use train and local conveyance to enjoy the match without any tension.
Principality Stadiums Facilities
First Aid: If visitors need any first aid, they can find the help at corners of Ground levels 3,4, & 6
Toilets: Cleaned toilets are also available on all levels for ladies and Gents, additionally toilets for specially-abled persons are available on all levels and accessible through the RADAR Key. A RADAR key is a use to open more than 10000 disabled toilets in United Kingdom.
Disabled Facilities: Stewards will be provided to disabled persons on request. Steward help spectators to order and provided the food and snacks at the seat.
Alcohol Purchase: Alcohol is prohibited for those under-18 visitors. The Millennium stadium follows the proper rule not to sell Alcohol to someone who comes in under 18. If visitors not looking the age for alcohol purchase, then they should have to show a photo ID and Passport for purchasing the alcohol.
Key Points to Remember
Millennium Stadium is a fully cashless stadium; it is best to take cards instead of cash.
Smoking is not allowed in the main bowl but is allowed outside the stadium within the main gates.
Standing is not allowed during the match, during matches spectators are instructed to be seated to avoid the other visitor's inconvenience.
Principality Stadium Parking
There is no parking available for visitors and spectators. If visitors coming by rented car or own car they should first try the parking in the City center. The other option on match days is rides and coaches running, so it is easy to park the car somewhere else if you are coming from a long distance and use local conveyance.


Principality Stadium map showing all the parking lots near the stadium along with a stadium location map. All the stands of the stadium all clearly depicted on the map along with nearby roads. Millennium Stadium entry and exit Gates are also clearly shown on the map. With the help of this map, guests visiting this beautiful stadium can park their vehicles easily. The Principality Stadium parking lot map is very useful for visitors who are planning to visit this stadium in their own vehicles.