Los Angeles Memorial Coliseum is located in Los Angeles, California, United States. This stadium is the multipurpose stadium and mainly used for football and motorsports games. This stadium is also known as L.A. Coliseum and United Airlines Field. L.A. Coliseum is the home stadium of USC Trojans (NCAA) and Busch Light Clash (NASCAR). As this stadium is a multipurpose stadium and among many friends Los Angeles Memorial Coliseum seating plan and ticket prices are always in high demand.
Los Angeles Memorial Coliseum started to build in December 1921 and opened its gate for the public on 1st May 1923. This stadium was designed by John and Donald Parkinson and the construction cost of the stadium was US$954,872.98. L.A. Coliseum is owned by the State of California, Los Angeles County, and City of Los Angeles, operated by University of Southern California. As this stadium is more than 100 years old and has gone through various renovations over the period many times to maintain the latest facilities.
This stadium has a great history and hosts many historic games. L.A. Coliseum hosted National Football League (NFL) games, 1959 MLB All-Star Game, 1966 World Cup qualifier, NFL-AFL Championship Game , North American Soccer League matches, 1932 & 1984 Summer Olympics etc. and Los Angeles Memorial Coliseum will also host the 2028 Summer Olympics. Apart from the games this stadium hosted many concerts and large outdoor events.
Los Angeles Memorial Coliseum Seating Plan 2023 California
As this stadium is a multifunctional stadium and many visitors search L.A. Coliseum seating map for games and events. The Los Angeles Coliseum seating plan is very helpful while L. A. Coliseum ticket booking and understand the seating location. The seating capacity of L.A. Coliseum is 77500, previously it was 93607.
On the Seating Map of Los Angeles Coliseum all information related to entry and exit gates, box office, suites location, Food outlets, elevator locations, first aid location, club location etc are clearly depicted.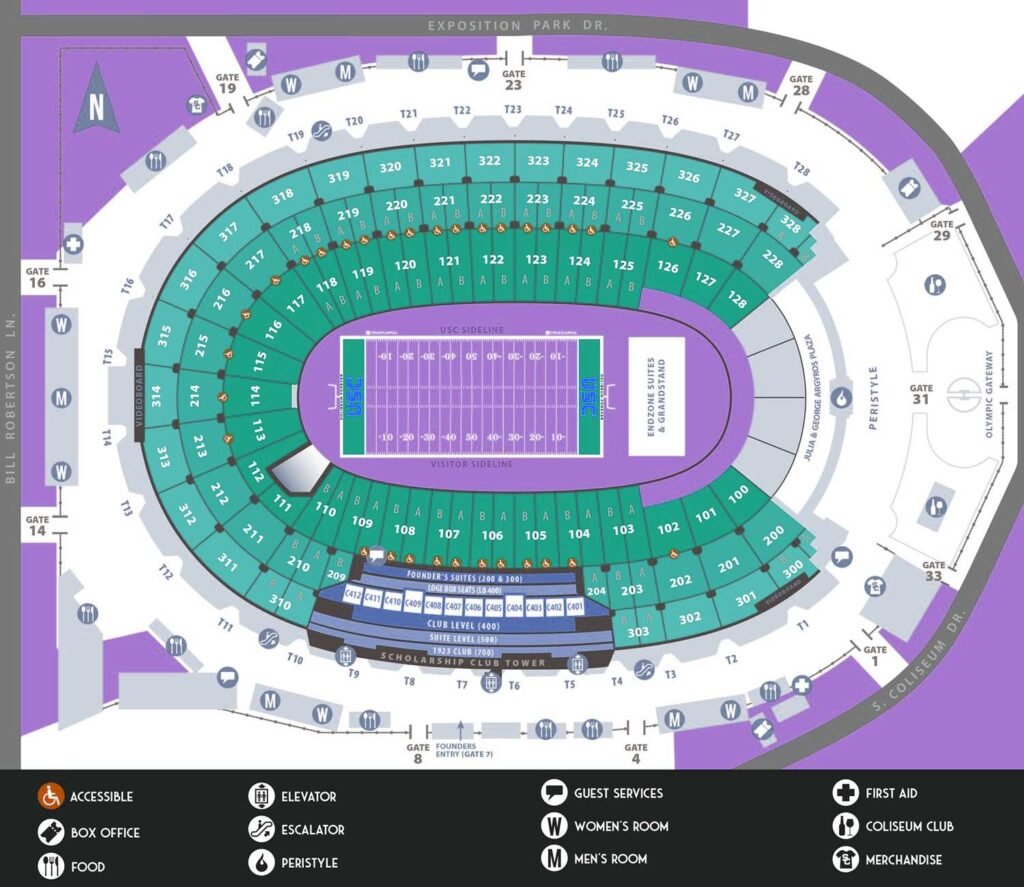 The Los Angeles Coliseum seating plan 2023 is bifurcated into tho the four levels
100 Level : The nearest level to the pitch which includes the sections 100, 101, 102, 1203, 104, 105, 106, 107, 108, 109, 110, 111, 112, 113, 114, 115, 116, 117, 118, 119, 120, 121, 122, 123, 124, 125, 126, 127 and 128.
200 Level : This is the middle level which has founder's suites 200 & 300. and constits the sections : 200, 201, 202, 203, 204, 209, 210, 211, 212 213, 214, 215, 216, 217, 218, 219, 220, 221, 222, 223, 224, 225, 226, 227 and 228.
300 Level : This level is the upper level of the stadium and lode boxes between 200 and 300 level. This level consists the sections 300, 301, 302, 303, 310, 311, 312, 313, 314, 315, 316, 317, 318, 319, 320, 321, 322, 323, 324, 325, 326, 327 and 328.
Level 400 : This level is the premium seating area and consists the club level 400, suite level 500 and 1923 club.
Los Angeles Memorial Coliseum Parking Map 2023
On event and match day, finding parking is a big task. Visitors are suggested to reach the stadium on time to avoid the last rush. L A Coliseum parking map with directions is very helpful on event day because many routes are closed on the event day.On game day all left turn lanes are closed and plan your visit as per the situation. Most of the parking space of Exposition park and USC Campus parking are normally sold in advance.
Los Angeles Memorial ColiseumTicket Prices 2023
Tickets prices of Los Angeles Coliseum 2023 are variable as this stadium is a multipurpose stadium. All games and event prices depend on the demand, playing team and performer. In concerts and event cases organizers decide the ticket prices.
Los Angeles Memorial Coliseum ticket for football games starters from $60 to $234 or more as per the seat location and other NASCAR Clash games ticket prices starts from $85 to $225 or more as per the seat location.
Los Angeles Memorial Coliseum Ticket Booking 2023
Ticket booking of Los Angeles Coliseum 2023 available online and offline. Visitors can buy the tickets through in person visit at the stadium box if they have sufficient time. For time saving online Los Angeles Coliseum ticket booking is the best option. It is suggested that online L.A.Coliseum ticket booking use the official and trusted sites to avoid the last time rush.