Mercedes-Benz Stadium is a very famous multipurpose stadium in the United States. This stadium is located at Atlanta Georgi and it is easily accessible by visitors. This stadium is an especially dedicated stadium for football and Soccer game and serves many other games as well. Mercedes-Benz Stadium is the home of the Atlanta Falcons of the National Football League and Atlanta United FC of Major League Soccer. This stadium is owned by the Georgia World Congress Canter Authority and operated through AMB Sports and Entertainment Group. In this article, we are providing the details of Mercedes-Benz Stadium seating chart, ticket price, ticket booking procedure and parking options with a parking map.
The Mercedes-Benz Stadium opened its gate to the public on 26th August 2017 and took approximately three years to build. This stadium is very famous for its design, this stadium has a pinwheel consisting retractable roof which takes 10 minutes to open and close. This stadium has been designed by HOK, tvdesign, Goode Van Slyke, Stanley Beaman & Sears. Mercedes-Benz stadium is equipped with advanced facilities.
The Mercedes-Benz stadium is the first professional sports stadium that has Zero Waste Facility and is to be awarded TRUE Platinum certification. The stadium implying redirects over 90% of waste from landfills through reusing and other methods.  The Mercedes-Benz Stadium also hosted and organized sporting events, concerts, conventions, and trade shows.
The stadium hosted the 2017 Major League Soccer Season, 2018 Major League Soccer Season, 2018 MLS All-Star Game, 2018 MLS Cup, 2019 Champions Cup, 2019 U.S. Open Cup Final, and many International friendly tournaments. This stadium is new, and many games already plan to be organized here and play here. The FIFA World Cup matches in 2026 will also be played at Mercedes-Benz Stadium.
Mercedes-Benz Stadium Seating Plan 2023
Mercedes-Benz Stadium seating capacity is 71000 for football & 42500 for soccer and 83000 for concerts and events. The highest attendance recorded for football games was 79330 in the 2022 Peach Bowl and 73019 for the soccer game in the 2018 MLS Cup.
The seating plan Mercedes-Benz Stadium is very important to the fans and visitors who really want to enjoy the best view game from their seats. The Mercedes-Benz Stadium seating layout has been very well designed and parted as below: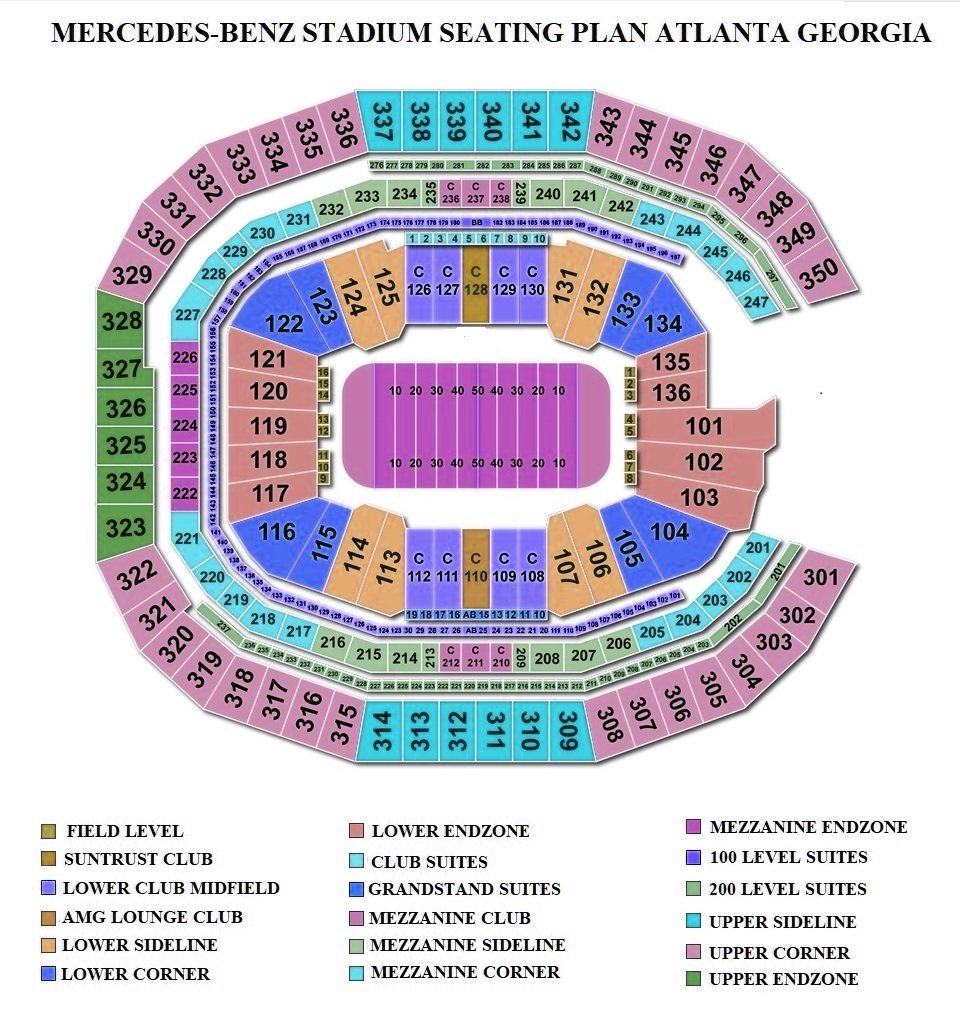 Mercedes-Benz Stadium Seating Plan Atlanta Georgia
Lower Level: The lower level is the closest level to the pitch. This level provides the fans good view and they can see their favorite player from near through this level. At this level field level suites and club seating facilities are also available. These suites and club seating stadium provided premium amenities with premium hospitality. This level total has the stadium's highest capacity i.e., around 27500 seats. This level consists of sections 100 to 124 and 133 to 157.
200 Level: This level is located just above the lower level and provides a good and entertaining view from all seats. This level also has club seating facilities with premium amenities. The 200 level has a seating capacity of around 19000 seats. This level covers a seating section from 201 to 233 and from 244 to 276.

300 Level: This level is just above the 200 level and this level has a bird's eye view from the seats. From this level, visitors can easily see both the goals points and players. This level also provides club seating with premium amenities. The seating capacity of 300 level is 21000 seats and seating sections cover from 301 to 337 and 348 to 384.

Upper Level: This level is the highest level of the stadium and for this level, we can say that this level has a wide bird eye view. From this level fans and visitors can also see the full stadium view and enjoy the crowd's energetic roar and support for their team. The upper-level seating capacity is 3500 and seating sections cover from 400 to 436 and from 447 to 483.



Mercedes-Benz Stadium Information
Capacity
For Football Games: 71000 expandable upto 75000
For Soccer Games: 42500 expendable upto 71000
Location
1 AMB Drive Northwest, Atlanta Georgia, United States
Owner
Georgia World Congress Canter Authority
Operator
AMB Sports and Entertainment Group
Parking
Yes
Filed Size
 For Football Games: 120 yd x 53.333
For Soccer Games: 115 yd x 75 yds
Surface
FieldTurf CORE
Mercedes-Benz Stadium Ticket Price
Mercedes-Benz Stadium ticket charges are always in high demand as this stadium is very famous among the people. Mercedes-Benz ticket prices are varying as per the event and games. Visitors and fans can go through the official website of the stadium for the updated prices of games and events.
Normally the ticket price for Mercedes-Benz Stadium is as follows.
Football games ticket generally starts from $50 for upper-level seats and increase by multiple hundred dollars for the club, suites and lower-level seat, and premium seats.

Soccer games Atlanta United FC tickets start from $25 for upper-level seats and increase by multiple hundred dollars as per the seating facilities at a lower level, club level, suits, and premium seating.
Concerts and event tickets price is depending on the organizer. The concert and event ticket prices depend on the event and the performers' importance. If a famous performer is performing on stage, then ticket prices charge highly chargeable. Generally, concerts ticket starts from $50 for the upper level and lower level, and club seating selling at higher prices.
Mercedes-Benz Stadium Ticket Booking
Mercedes-Benz Stadium ticket booking should be done on time to avoid last-time non-availability of tickets. There are many options to book a tickets Mercedes-Benz Stadium as follows:
Online through Official Website: Online ticket booking is the best option to book a ticket online. Visitors can go directly to the official website of the team and stadium.
Go to the event and game calendar
Then select the event and date of booking
After this select the seat location
Review your ticket summary
Provide mobile number and mail id for ticket confirmation
Proceed for the payment gateway
After payment confirmation check the payment, confirmation of ticket e-mail arrive on email id
Online authorized sites: Visitors can also book tickets from authorized sites, where visitors can buy tickets a little bit at higher prices with additional fees and convenience charges. As per the seat location ticket available at some higher fares.
Offline Box Office: Visitors can directly visit the stadium box office to buy tickets directly. The ticket is also available on the counter for match day and events. Before going to the box office cross-check the offline ticket availability.
Authorized resellers: Authorized reseller is one of the options for an offline ticket. Authority also authorized some sellers to the ticket seller. Before buying tickets from authorized resellers cross check the authorized reseller list from the site.
Mercedes-Benz Stadium Parking Map
Mercedes-Benz Stadium parking is one of the main issues for visitors who want to watch the match. Most visitors are always worried about the parking, on match days parking is not easily available. It is suggested that on match days take sufficient time to park the car. Here are some options for parking:

Mercedes-Benz Stadium Parking Layout Atlanta Georgia
Stadium Parking: Mercedes-Benz stadium parking has sufficient space. Stadium parking capacity is around 22000 vehicles. The parking charges are applicable from $10 to $60 depending on the event and games. The parking facility is available on a first come and first serve basis.
Parking lot and garages: Mercedes-Benz stadium has many parking lots and garages, on event and matches days stadium parking gets full and these parking spaces help visitors to park their vehicles at reasonable prices. The parking prices of the garages and lots are depending on the distance from the stadium and location. The nearest parking lot will charge high as per the space availability.