The Ostseestadion was started to build in 1953 and opened its gate for the public on 27th June 1954. This is the football stadium which is located at Rostock, MV, Germany. The Ostseestadion is the home of F.C. Hansa Rostock and for the selected matches Germany national football team. We are providing the information of the Ostseestadion seating plan, parking map, ticket price and ticket booking.

Ostseestadion is owned and operated by the Ostseestadion GmbH & Co. KG. On 4th August 2001 this stadium reopened because it was re-constructed on the same site. The construction cost of the stadium in 2001 was 55 million DM. This beautiful stadium was designed by the Beyer + Partner, Rostock. During its life the Ostseestadion hosted many games, weddings, concerts, trade fairs etc. FIFA World Cup qualifier, international football matches, UEFA European Championship qualifier etc are games hosted by the stadium
Ostseestadion Seating Plan 2023 Rostock
The seating capacity of Ostseestadion 29,000 after the expansion in 2001. In 1954 seating capacity was 17000. Currently out of 29000 capacity 25000 is the seating area. This stadium has 26 business lounges for sponsors and partners and 1000 business seats. During the booking of the ticket, the Ostseestadion seating chart is very helpful to locate the sections, seat number and view from the seats.
On the Seating Map of Ostseestadion 2023 all the entrance, ticket counter, stand information, family blocks, and guest blocks are clearly depicted. The Ostseestadion seating map information are given below :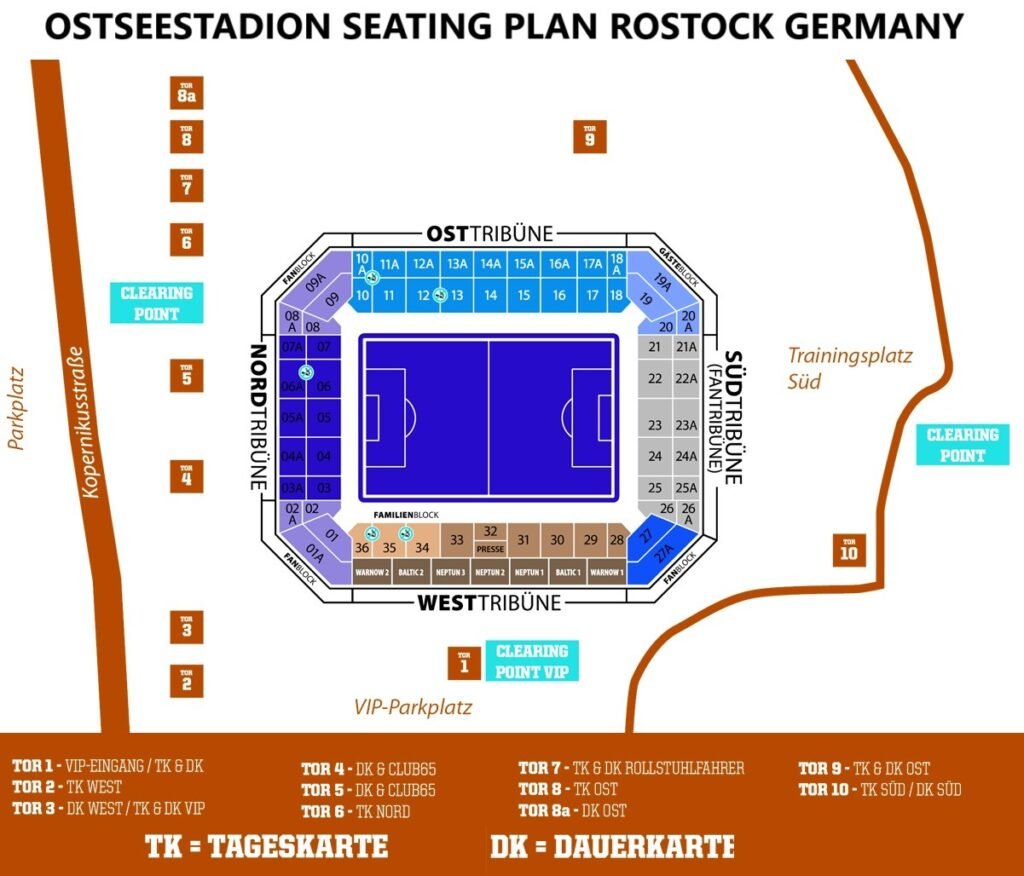 OST Tribune (East Stand) : Lower Level  Sections – 10, 11, 12, 13, 14, 15, 16, 17, 18 and Upper level Sections  10A, 11A, 12A, 13A, 14A, 15A, 16A, 17A, 18A.

Sud Tribune (South Stand)  : Lower Level  Sections – 19, 20, 21, 22, 23, 24, 25, 26, 27 and Upper level Sections  19A, 20A, 21A, 22A, 23A, 24A, 25A, 26A, 27A. In this stand 19, 19A, 20, 20A are guest blocks and  27, 27A are the family blocks. 

West Tribune (West Stand) : Lower Level Section – 28, 29, 30, 31, 32, 33, 34, 35, 36. In lower level Media seatig also available in section 32 and section 34, 35, 36 are the family block. Upper Level sections are Warnow 1, Baltic 1, Neptun 1, Neptun 2, Neptun 3, Baltic 2, Warnow 2.

NordTribune (North Stand) : Lower Level  Sections – 01, 02, 03, 04, 05, 06, 07, 08, 09 and Upper level Sections  01A, 02A, 03A, 04A, 05A, 06A, 07A, 08A, 09A. In this stand 01, 01A, 02, 02A, 08, 08A, 09, 09A are the fan blocks.
Ostseestadion Ticket Price and Booking 2023
As this stadium is the multi purpose stadium, ticket prices of Ostseestadion 2023 are different as per the events and games. Home games, season tickets and Regional league tickets all have different ticket prices. 
The tentative ticket prices of Ostseestadion for Regional league 2023 starts from 7 EURO to 10 EURO. The updated Baltic Sea Stadium tickets prices are available at the stadium and clubs official website.
Ostseestadion Ticket Booking 2023

Today's era mostly tickets can be booked through online, online ticket booking of Ostseestadion 2023 is the easiest way to save time and hassle free booking. Official authorities also issued the app for the ticket booking. Visitor can book the ticket through the following options :
Online ticket shop

By call at the stadium

In person visit at the stadium box office for event and match day

Authorized ticket sellers

Authorized App of the club
It is suggested that while booking online tickets, visitors should book the tickets only through a trusted site to avoid online frauds.

Ostseestadion Parking Map 2023
Parking map of Ostseestadion 2023 helps to understand the parking lot location and the directions. With the help of the parking map visitors can easily know the entrance and exit information for the matchdays. On match day many routes are directed to reduce the rush. It is suggested that you reach the stadium before kick off to hassle free parking.


At the Ostseestadion parking spaces are limited which fill fastly on match days. Visitors can also park the vehicle with nominal parking charges at P+R (Groß Schwaßer Weg), Freedom Square parking lot and Zoo parking lot.