The First Ontario Centre is located in Hamilton, Ontario, Canada, this stadium's original name is Copps Coliseum. This stadium is the multipurpose stadium which is used for sports, sporting events and entertainment purposes. This stadium started to build on 8th July 1983 and opened its gate for the public on 30th November 1985. Currently this stadium tenant is Toronto Rock. In this article we are sharing the First Ontario Centre seating plan 2023 , parking map, ticket price and ticket booking details.

FirstOntario Centre arena is owned by the City Of Hamilton and operated by Core Entertainment (HUPEG and Oak View Group). The seating capacity of FirstOntario Centre is 17383 for hockey and 19000 for the concerts. This beautiful arena was designed by the Parkin Architects Ltd. & Sink Combs Dethlefs and the construction cost of the stadium was C$42.7 million. This stadium hosted various games and concerts over time Ice Hockey Championship,1991 Canada Cup, the World Basketball League, 1994 FIBA World Championship, FIBA Americas Championship for Women, American Hockey League, National Hockey League, the Annual Canadian men's curling Championship, 2015 Pan American Games etc. Apart from the games this arena also hosted various concerts and many famous artists like Sarah McLachlan, Tony Bennett, Lois & Bram, Tangerine Dream, Morrissey, Chris de Burgh, Sharon, Leonard Cohen etc performed.
FirstOntario Centre Seating Plan 2023 Hamilton

The Seating Map of Copps Coliseum 2023 is very helpful for the visitors, with the help of visitors who can identify the seat location. While booking Copps Coliseum tickets, FirstOntario Centres seating charts 2023 pop up for the seat selection and visitors can choose the seat according to price.
The FirstOntario Centre seating chart is available for the different games and events.
FirstOntario seating map for sports
FirstOntario seating map for Concerts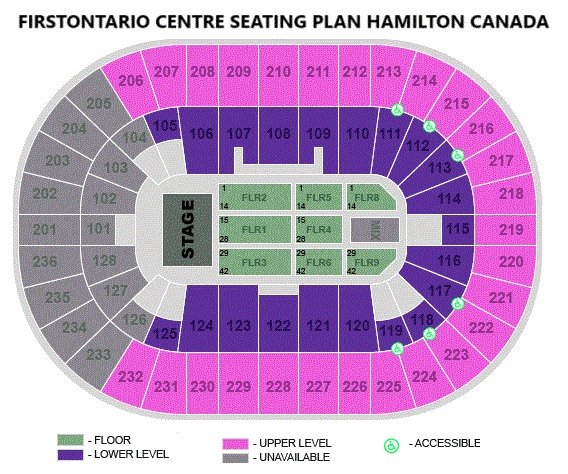 FirstOntario seating map for Orchestra
FirstOntario seating map for theater
The FirstOntario seating plan for sports bifurcated into two levels i.e. Upper and lower level and has the York BLVD., James Street, King Street and Bay Street sections.
The Upper Level has the sections 201, 202, 203, 204, 205, 206, 207, 208, 209, 210, 211, 212, 213, 214, 215, 216, 217, 218, 219, 220, 221, 222, 223, 224, 225, 226, 227, 228, 229, 230, 231, 232, 233, 234, 235, 236.

The Lower Level has the sections: 101, 102, 103, 104, 105, 106, 107, 108, 109, 110, 111, 112, 113, 114, 115, 116, 117, 118, 119, 120, 121, 122, 123, 124, 125, 126, 127, 128.
FirstOntario Centre Ticket Prices and Booking 2023
As this stadium is a multipurpose stadium and hosts various games, events, concerts, therefore this stadium ticket prices are not fixed. Visitors can visit the stadium official website to book the FirstOntario Centre tickets 2023 . All event and games data are updated on the official website, visitors can visit the stadium website and can check the FirstOntario Centre schedule. To prevent online fraud it is suggested that book FirstOntario Centre tickets online through trusted sites.
The tentative sports ticket price of FirstOntario Centre 2023 starts from $31 to $ 76 and more depending on the seat locations or on the games and playing team.
The concert and event also depend on the demand of the event and on the performer, FirstOntario Centre ticket prices 2023 for concerts starts around $40 and more as per the seat location.
FirstOntario Centre Parking Map 2023

On match day and event day parking is always in high demand by the visitors, FirstOntario Centre has limited parking space which is directly connected to the stadium. Visitors are suggested to reach the stadium prior to the start of the event and game or take sufficient parking time. Following parking options of FirstOntario Centre 2023 are available nearby the arena on walking distance :


69 Hughson St N Parking
Municipal Parking Car Park 36
Municipal Parking Car Park 49
Municipal Parking Car Park 70