Texas Motor Speedway is one of the largest sports venue in the World and 4th in the United States. Seating capacity of the racing venue is 112,552. It is the most famous race track of Texas and people from all over the USA came to this stadium to watch live races. Texas Motor Speedway tickets are in high demand always during the race events. It is very tough to find the seats without Texas Motor Speedway seating chart.

It is a relatively new race venue as compared to other race venues. It was opened on 29 February 1996 and constructed in $250 million. At the time of the opening name of the venue was Texas International Raceway and it is later changed to the current name. Major events held here are Monster Energy NASCAR Cup Series, O'Reilly Auto Parts 500, AAA Texas 500, NASCAR Xfinity Series, My Bariatric Solutions 300, NASCAR Gander Outdoors Truck Series, DXC Technology 600, etc. The track is made of Asphalt and it is in Oval shape.
Texas Motor Speedway Tickets
Online tickets are the best way to book Texas Motor Speedway tickets instantly. Tickets in online mode provide an easy way to secure your seat. We are providing easy way to book tickets in online mode. Always log on to the official website to secure the seats.

Log on to Texas Motor Speedway website and look for tickets and season tickets.
All the race of the race venue is listed along with the schedule.
Click on your choice of the race to book tickets online.
Click on book tickets after checking the date and event.
On this page all available tickets along with Texas Motor Speedway seating map displayed.
Click the best seat as per your budget and go for the payment.
After the payment, wait for confirmation mail of tickets.
Follow the process listed on the mail regarding the tickets and delivery information.
Tickets information is available on telephone 1-817-215-8500.
Texas Motor Speedway Ticket Price
Ticket cost depends on many factors like event and race type. Generally, tickets start from $30 and go up to $250. Tickets rates might go higher if ticket demand is high. Children ticket start from $10 if accompanied with an adult.

Texas Motor Speedway Seating Chart
It is a huge race track and during the events, it is tough to locate your seat when thousand of visitor came to this stadium. We are providing Texas Motor Speedway seating chart to help in finding the seat. It is very good to plan in advance and check your seat position before heading towards the stadium. Below is the complete Texas Motor Speedway seat map layout with rows.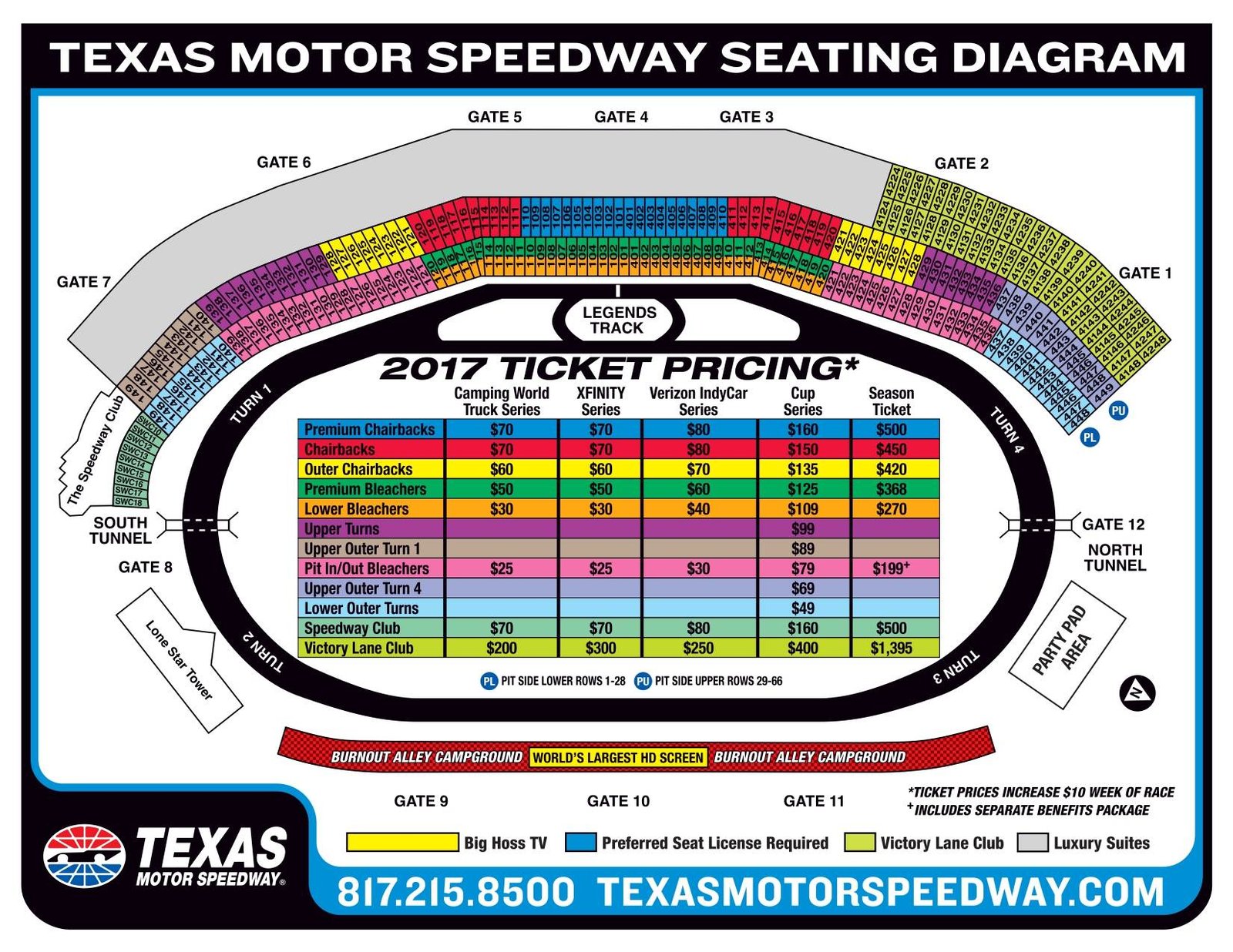 All the entry gates, seat rows, club, suites, burnout valley campground, legend track, tunnels, etc are clearly depicted on the map. All the section, row, start, finish line, pit stops are also clearly mentioned on the line. By observing this seat map you can also buy the best view seat map to watch the race.