Melbourne Cricket Ground is one of the largest stadiums in the world and the second largest cricket stadium in the World after Narendra Modi Stadium India. It is popularly known as g and it is Australia's largest sports stadium in terms of seating capacity. It is a cricket stadium used for many other sports also like Australian rules football, soccer, rugby, etc. This Stadium is used for hosting events from time to time and during the events people are looking for the Melbourne Cricket Ground seating map with rows and seat numbers to find their seats easily. It is one of the largest cricket stadiums in the world to accommodate more than a hundred thousand people at once.

It is one of the oldest stadiums in the world and it was established in 1853. It is located in East Melbourne, Victoria. It is operated by Melbourne cricket club and apart from hosting events it is used to host multiple concerts too. 171 meters x 146 meters is the field size of this stadia and it is used to host sporting events and concerts. Melbourne Football Club, Richmond Football Club, Collingwood Football Club, Essendon Football Club, Hawthorn Football Club, and Carlton Football Club are the main tenants for Australian Football League. Melbourne Storm is the main tenant for the Rugby league. Australia men's national soccer team, Australia women's national football team, and Melbourne Victory are using this ground for soccer. Australian cricket team, Victoria cricket team, and Melbourne Stars are the tenants of this ground for cricket matches.
MCG hosted the first international test match in 1877 between Australia and England. 1st ODI on this ground was played in 1971 between England and Australia. India vs Australia ODI is the first T20 match of this ground in 2008. During every International match and high-voltage concert, people Look for an MCG seating plan with rows to search their seats among 100000 seats.
Melbourne Cricket Ground Seating Map with Rows 2023

MCG seating capacity is 100024 and during some events, it accommodates more people as compared to its official capacity. During the Ed Sheeran tour, 109,500 guests enjoy the show. 143000 people were present in the stadium during Billy Graham Crusade. So basically it can easily accommodate more than 100000 people at once as per the seating configuration. It is Australia's largest Sporting Stadium and during the events, it is tough to locate seats without any seating plan. In this post, we are sharing the Melbourne cricket ground seating plan with rows and seed numbers so that users can easily find their seats in this biggest stadium in Australia.
Apart from International matches and concerts, Big Bash League matches are also posted in this stadium. We are sharing the MCG Stadium seating plan and as per the event, seating configuration can be different from the below map. However, the location of the seats and other important things will be almost the same.
Melbourne seating map is showing all the sections and seating of the stadium in a detailed map. MCG stands and seats are clearly depicted on the map along with all the entry and exit Gates. The position of all the light towers are also drawn on the map. The legend depicting the classification of seats is at the bottom of the map. transportation options like taxi stands, trains, trams, and box office locations are also at the bottom of the map. Nearby streets, roads, tram stops, junctions, and pick-and-drop stops are clearly shown on the map so that people can easily reach the stadium. MCG sitting plan map is also beneficial while planning to book the seats so that spectators can book the best view seats.
Melbourne Cricket Ground Parking Map 2023

During High Voltage Matches and events, it is tough to park vehicles near the MCG. It is difficult to park all the vehicles near the stadium as it is one of the biggest stadiums in the World. MCG is near Yarra park and many parking locations were built in the park during AFL games and other sporting events. Some of the authorized parking space is located near the entry gates. The location of MCG stadium parking and Yarra Park vehicle parking paddocks are depicted on the map. MCG parking lots map is very useful for the spectators visiting this stadium via their own vehicles during the games.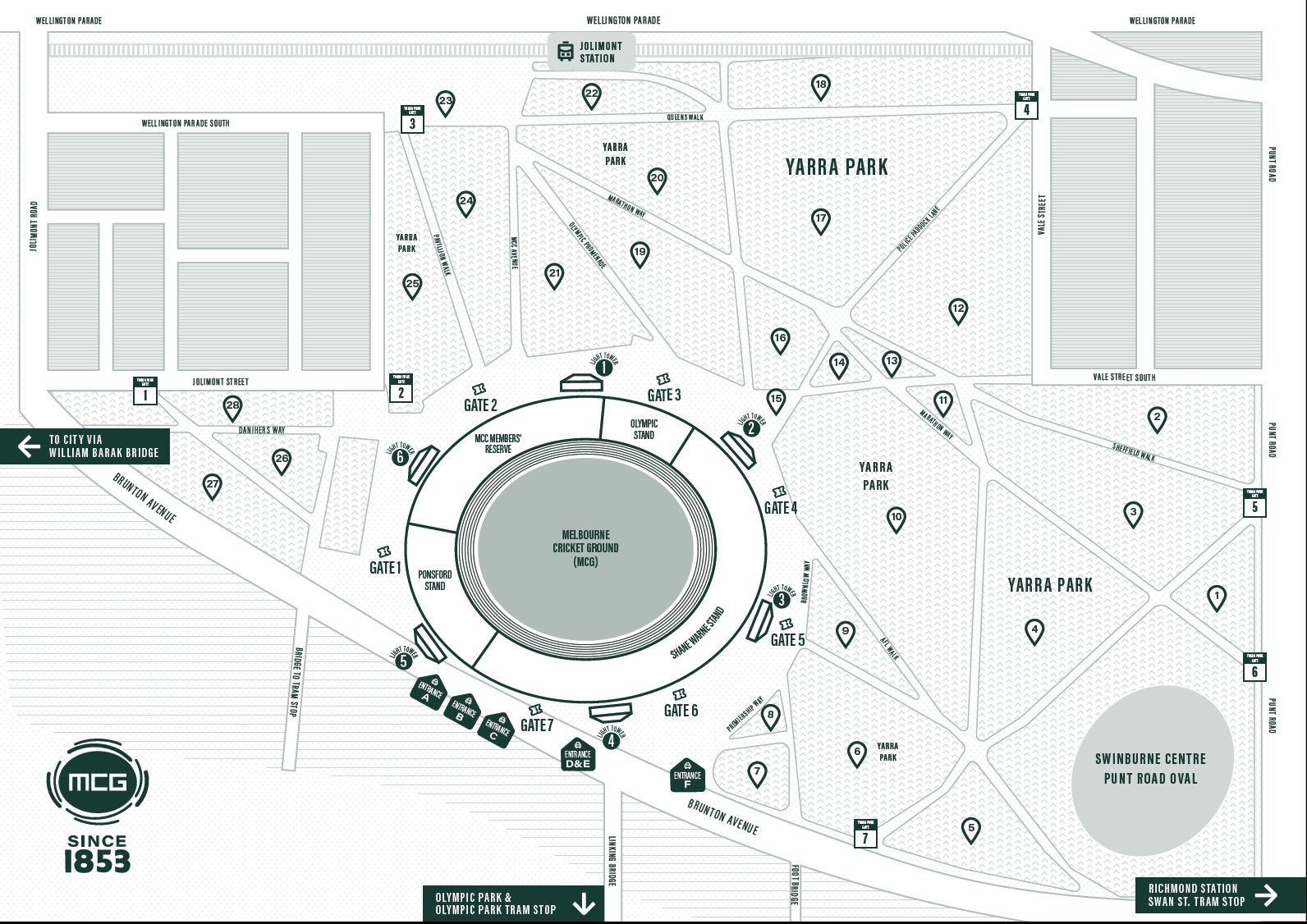 Nearby streets, entry gates, parking lot locations, lighting towers, nearby streets, junctions, tram stops, etc are clearly marked on the map.
Melbourne Cricket Ground Ticket Price

This Stadium hosts a variety of Sporting events like football, cricket, soccer, rugby, etc. MCG Stadium ticket prices depend on the type of events and the location of the seats. The detailed price list for Melbourne Cricket Ground is generally announced a couple of weeks before the match. MCG ticket price generally starts from $10 for normal events and can go up to +100$ easily and it depends from game to game.
MCG Stadium Tickets Booking
Sports fans can book tickets for MCG stadium via visiting official ticket booking websites online mode or by visiting the box office located outside the Melbourne Cricket Ground. Some of the reseller websites are also selling MCG tickets during high demand. Visitors are advised to book Melbourne Cricket Ground tickets online and offline only from official sources to save themselves from any potential fraud.